Introduction
Providing Public Assistance and Employment Services to Solano County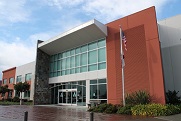 The Employment and Eligibility Services Division within the Health and Social Services Department assists citizens to become more independent and productive through programs designed to reduce dependency on welfare and promote personal responsibility. Also, it provides eligibility determination and benefit issuance for customers who apply for various public assistance benefits.  
To learn more about the Health and Social Services Department, and the services we provide, please visit our website: http://www.solanocounty.com/depts/hss/default.asp
The Position
Eligibility Benefits Specialist II is the full journey working level in the series. Under supervision, applies regulations and procedures to determine eligibility for multiple public assistance programs in accordance with established procedures.
The eligible list established from this recruitment will be used to fill part-time and full-time regular, limited-term or extra-help positions as vacancies occur or the need arises.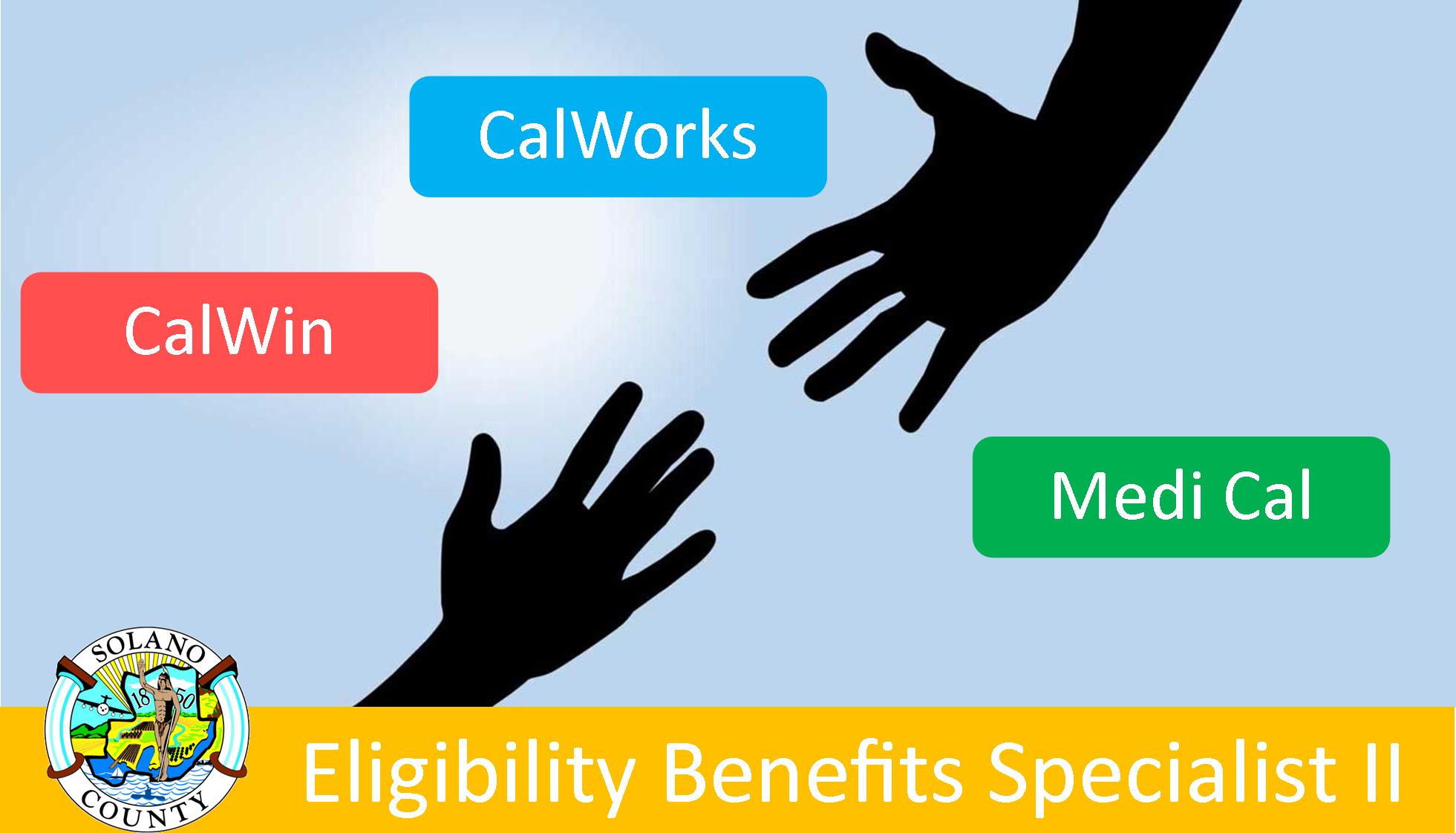 POSITION REQUIREMENTS
Experience: Six (6) months of experience performing duties equivalent to an Eligibility Benefits Specialist I (Eligibility Worker I) in a California County Department of Social Services. The experience must have been within the last two (2) years;
AND
Language Proficiency: This position requires bilingual Spanish skills. Applicants will be required to demonstrate proficiency in speaking, reading, and writing in Spanish.
To review the job description for this position, please visit:
http://www.solanocounty.com/civicax/filebank/blobdload.aspx?blobid=15736
BENEFITS
n Solano County offers a cafeteria-style medical package with health benefits, offered through CalPERS. The County contribution for family coverage for the 2018 calendar year is $1,520.73 per month. The County offers a cash back provision for those who choose employee-only or who waive medical insurance coverage. The County may offer a supplemental contribution for employees enrolled in Employee plus Two or More coverage.
n Dental and vision insurances for the employee and eligible dependents are paid 100% by the County.   
n Solano County participates in CalPERS retirement and contributes to Social Security.
n The County observes 12 fixed, paid holidays per year.                        
n Vacation is accrued at approximately 10 days per year for the first 3 years. Sick leave accrues at approximately 12 days per year.
n Employees are eligible to receive an additional 2.5% longevity pay, per level, after the completion of continuous service at 10, 20, 25, 30, and 35 years.
  To view the benefits for a regular position, please visit: 
http://www.solanocounty.com/civicax/filebank/blobdload.aspx?blobid=16514
Extra-help employees who work less than 29 hours per week do not typically receive or accrue benefits of regular employees during their period of employment. All extra-help employees accrue .034 hours of Paid Time Off for every full hour worked.
To view the benefits for an extra-help position, please visit: 
http://www.solanocounty.com/civicax/filebank/blobdload.aspx?blobid=16516
Selection Process
8/13/18 – Deadline to submit application and required documents.
9/5/18 – Tentative date for written exam and bilingual exam.  
Based on the information provided in the application documents, the qualified applicants will be invited for further examination. All applicants meeting the minimum qualifications are not guaranteed advancement through any subsequent phase of the examination. Depending upon the number of applications received, the selection process may consist of an initial application screening, a mandatory information meeting, a written and/or practical exam, an oral interview, or any combination listed. Information contained herein does not constitute either an expressed or implied contract.      
All potential new hires and employees considered for promotion to management, confidential positions or unrepresented will be subject to a background and reference check after contingent job offer is accepted.  These provisions are subject to change.    
A minimum score of 70% is required to continue in the selection process.
RETIREES - Solano County invites all to apply for positions; however pursuant to Government Code Section 21221 (h) and 21224, hiring restrictions may apply to California Public SEctor Pension Plan Retirees.
How to Apply
Please visit the County of Solano website, www.jobsatsolanocounty.com, to apply. All additional application materials as requested in the job announcement (e.g. copies of diploma and/or transcripts, certificates, DD-214) must be submitted with a document cover sheet, available on the County's employment website: http://www.jobaps.com/Solano/sup/doccover.pdf or at the of Human Resources' office.
Previously submitted application materials for prior recruitments will not be applied for this recruitment but must be re-submitted for this recruitment.  
Questions can be directed to the Human Resources Department at (707) 784-6170 or at 675 Texas Street, Suite 1800 Fairfield. The office is open Monday-Friday, 8:00 a.m.-5:00 p.m. EOE/AA
Document Submittal Requirements
How to Submit Your Documents
In addition to uploading attachments when applying online, candidates may submit documents in-person or by mail at Solano County Department of Human Resources 675 Texas Street, Suite 1800, Fairfield CA 94533, by fax to (707) 784-3424, or by email to recruitment@solanocounty.com. When submitting documents in-person, by mail or by fax, include the recruitment title (EBS II - Spanish) and the recruitment number (18-443170-B1). If submitting documents by email include the recruitment title and recruitment number in the subject field.
Supplemental Questionnaire
This Supplemental Questionnaire will be used to determine applicants' qualifications for this position and assess an applicant's ability to advance in the recruitment process; therefore, applicants are encouraged to answer all questions thoroughly and completely.  Omitted information will not be considered or assumed.  Applicants who have no experience in a specific area are recommended to state "no experience in this area" instead of leaving the space blank.
Please note that the experience in your answers must be reflected in your employment history.
1
Do you possess six (6) months experience performing public assistance benefit eligibility determination in a California County Department of Social Services?
Yes  No 
2
Is your experience performing public assistance benefit eligibility determination within the last two (2) years?
Yes  No 
3
This position requires Spanish skills. Applicants will be required to demonstrate proficiency in speaking, reading, and writing in Spanish. Are you proficient in speaking, reading, and writing in Spanish?
Yes  No 
Special Requirements
Drivers License: Possession of a valid California Class C Drivers License may be required at the time of appointment.  Loss of the Class C Drivers License is a cause for discipline.  Individuals who do not meet this requirement due to a physical disability will be considered for accommodation on a case-by-case basis.
Language Proficiency: Some positions allocated to these classes may require bilingual skills.
Assignment Requirements: Some positions in these classes may require work in an out-station location or in a setting with other professionals integrated as a team.
Veterans Preference Points
To be eligible, applicant must have served at least 181 consecutive days of active duty in the Armed Forces of the United States and have received either an honorable discharge or a general discharge under honorable conditions. A COPY OF THE DD 214, SHOWING DISCHARGE TYPE (GENERALLY COPY 4), MUST BE RECEIVED IN THE HUMAN RESOURCES DEPARTMENT BY THE FINAL FILING DATE. Applicants who have a service connected disability must also submit a recent award letter from the VA stating they are receiving disability benefits for service connected reasons.

Veteran applicants for initial County employment with an honorable or general under conditions discharge shall receive five (5) points added to their combined score. Disabled veterans rated at not less than 30% disability shall have ten (10) points added to their combined score. Veteran's preference points will only be added to passing scores in competitive open examinations.
Americans With Disabilities Act
It is the policy of Solano County that all employment decisions and personnel policies will be applied equally to all County employees and applicants and be based upon the needs of County service, job related merit, and ability to perform the job.
APPLICANTS WITH DISABILITIES: Qualified individuals with a disability, who are able to perform the essential functions of the job, with or without reasonable accommodation, and need an accommodation during any phase of the recruitment/testing/examination process (as detailed in the "Selection Process"), must complete the following Request for Testing Accommodation by Applicants with Disabilities Form: http://www.solanocounty.com/civicax/filebank/blobdload.aspx?BlobID=23215.

This form must be received in the Human Resources Department by the final filing date of the recruitment. Applicants will be contacted to discuss the specifics of the request.
Solano County
Click here to take a video tour of Solano County.
The County of Solano offers a blend of agriculture, corporate business, cultural venues, festivals and events, and provides residents with many recreation and entertainment choices. The County is also home to Travis Air Force Base.

Solano County is centrally located and serves as a gateway to all that Northern California has to offer. The Napa Valley is less than 20 miles away, two world-class public universities (UC Berkeley and UC Davis) are 20 miles away, and both San Francisco and Sacramento are less than 40 minutes away. Day trips can also be made to South Lake Tahoe and Monterey.

With its strategic location, affordable housing, natural resources, responsible land use planning, and attractive quality of life, Solano County is a great place to live, learn, work and play.

County Population (2016): 431,498

The provisions of this bulletin do not constitute an expressed or implied contract. Any provision contained in this bulletin may be modified or revoked without notice. 
 
SOLANO COUNTY IS AN EQUAL EMPLOYMENT OPPORTUNITY EMPLOYER