Introduction
Solano County Library is a progressive and innovative library with secure funding and widespread support from the community. The Library serves the community with eight branches and virtual services in five of the seven cities in Solano County with a staff of 111 FTE. With its strategic location, affordable housing, natural resources, and historical significance, Solano County is a growing community with a promising future as a place to live, learn, work and play. There is an abundance of open space to hike, bike, camp, and explore as well as coastal access for sailing, windsurfing, kayaking, and fishing. Residing midway between the Bay Area and the Sacramento metropolitan regions and neighboring the Napa Valley, residents enjoy the leisurely options of taking a ferry to San Francisco, train to downtown Sacramento or riding their bikes through valleys of vineyards and over the hill to Napa.  
Solano County Library is guided in its mission to enrich the lives of the people in the County by a Strategic Plan, which is community focused, staff inspired, and outreach oriented. To realize these goals over the next several years, the Library has committed to embracing a spirit of flexibility and experimentation as we examine our current organizational structure and enact changes that will permit us to focus our services in response to community desires. At Solano County Library, we are the people, places, and services that spark curiosity, inspire creativity, and champion learning.
The Position

The Deputy Director of Library Services is responsible for the ongoing management over divisions of the Department of Library Services through subordinate managers and supervisors.  Incumbents may be assigned responsibility for public services and/or support services for the county library system. 
The Deputy Director of Library Services serves as a member of the Library's executive management team and is responsible for the planning, development and implementation of goals, objec­tives, policies, priorities and performance standards for the assigned divisions; participating in strategic planning for major initiatives and new directions for library services; providing innovative leadership in a culture characterized by excellent service; developing, evaluating and resolving service needs and related methods of delivery; and, creating and maintaining relationships with community members and organizations.
The Ideal Candidate is someone who has a progressive vision of library services, is customer focused, enthusiastic and has a sense of humor. Strong organizational and project-management skills are required as is good judgment, tact and discretion. Effective written and oral communication skills are critical to the position.  
This position is an "at-will" executive management position and is exempt from the civil service; incumbents serve at the discretion of the appointing authority.
POSITION REQUIREMENTS 
Experience: Four years of progressively responsible supervisory experience providing library services and related activities including budgeting and planning/evaluation of services including two years in a library management position;
AND 
Education: A Master's Degree in Library Science is required from an accredited college or university.
To view the job description for this position, please visit: http://www.solanocounty.com/civicax/filebank/blobdload.aspx?blobid=15693
BENEFITS
Solano County offers a cafeteria-style medical package with health benefits, offered through CalPERS. The County contribution for family coverage for the 2018 calendar year is $1,520.73 per month. The County offers a cash back provision for those who choose employee-only or who waive medical insurance coverage. The County may offer a supplemental contribution for employees enrolled in Employee plus Two or More coverage.
Dental and vision insurances for the employee and eligible dependents are paid 100% by the County.  
Solano County participates in CalPERS retirement and contributes to Social Security.  
The County observes 12 fixed, paid holidays per year.
Vacation is accrued at 20 days per year. Sick leave accrues at approximately 12 days per year. Effective July 1 of each year, 80 hours of administrative leave is granted.  
Employees are eligible to receive an additional 2.5% longevity pay, per level, after the completion of continuous service at 10, 15, 20, 25, 30, and 35 years and may receive credit for prior years of service employed with California cities, counties, joint power authorities, and other special districts.  
To review the benefits for this position, please visit:   http://www.solanocounty.com/civicax/filebank/blobdload.aspx?blobid=18137
Selection Process
July 9, 2018    Deadline to submit application.
July 23, 2018  Tentative week for interviews for most qualified applicants.
Based on the information provided in the application documents, the qualified applicants may be invited for further examination and will either be pre-scheduled by the Department of Human Resources or be invited to self-schedule. All applicants meeting the minimum qualifications are not guaranteed advancement through any subsequent phase of the examination. Depending upon the number of applications received, the selection process may consist of an initial application screening, a mandatory information meeting, a written and/or practical exam, an oral board exam, or any combination listed. Information contained herein does not constitute either an expressed or implied contract.
All potential new hires and employees considered for promotion to management, confidential positions or unrepresented positions will be subject to a background and reference check after contingent job offer is accepted.  These provisions are subject to change.
RETIREES - Solano County invites all qualified candidates to apply for positions; however pursuant to Government Code Section 21221(h) and 21224, hiring restrictions may apply to California Public Sector Pension Plan Retirees.
How to Apply
Please visit the County of Solano website, http://jobsatsolanocounty.com to apply. All additional application materials as requested in the job announcement (e.g. copies of diploma and/or transcripts, license, certificates...) must be submitted with a document cover sheet, available on the County's employment website: http://www.jobaps.com/Solano/sup/doccover.pdf or at the Human Resources' office and are due by the final filing date.
Previously submitted application materials (i.e. copies of diploma and/or transcripts, license, certificates, ADA Accommodation, etc...) for prior recruitments will not be applied for this recruitment but must be re-submitted for this recruitment.
Questions can be directed to the Human Resources Department at (707) 784-6170 or at 675 Texas Street, Suite 1800 Fairfield. The office is open Monday-Friday, 8:00 a.m.-5:00 p.m. EOE/AA.
Document Submittal Requirements
A Master's Degree in Library Science is required for this position. All applicants are encouraged to submit either a copy of their college diploma (verifying the degree, date earned and area of specialization) or official/unofficial transcripts (verifying the date and degree conferred) by the final filing deadline. However, proof of this education requirement must be submitted prior to appointment.
PLEASE NOTE THE FOLLOWING:  Candidates who attended a college or university that is accredited by a foreign or non-U.S. accrediting agency must have their educational units evaluated by an educational evaluation service.  The result must be submitted to the Human Resources Department no later than the close of the recruitment.  Please contact the local college or university to learn where this service can be obtained.
How to Submit Your Documents
In addition to uploading attachments when applying online, candidates may submit documents in-person or by mail at Solano County Department of Human Resources 675 Texas Street, Suite 1800, Fairfield CA  94533, by fax to (707) 784-3424, or by email to recruitment@solanocounty.com.  When submitting documents in-person, by mail or by fax, include the recruitment title (Deputy Director Of Library Services) and the recruitment number (18-147310-01).  If submitting documents by email include the recruitment title and recruitment number in the subject field.
Supplemental Information
Possession of or ability to obtain a valid class C California driver's license may be required.

Independent travel will be required.
Americans With Disabilities Act
It is the policy of Solano County that all employment decisions and personnel policies will be applied equally to all County employees and applicants and be based upon the needs of County service, job related merit, and ability to perform the job.

APPLICANTS WITH DISABILITIES: Qualified individuals with a disability, who are able to perform the essential functions of the job, with or without reasonable accommodation, and need an accommodation during any phase of the recruitment/testing/examination process (as detailed in the "Selection Process"), must complete the following Request for Testing Accommodation by Applicants with Disabilities Form: http://www.solanocounty.com/civicax/filebank/blobdload.aspx?BlobID=23215.

This form must be received in the Human Resources Department by the final filing date of the recruitment. Applicants will be contacted to discuss the specifics of the request.
Solano County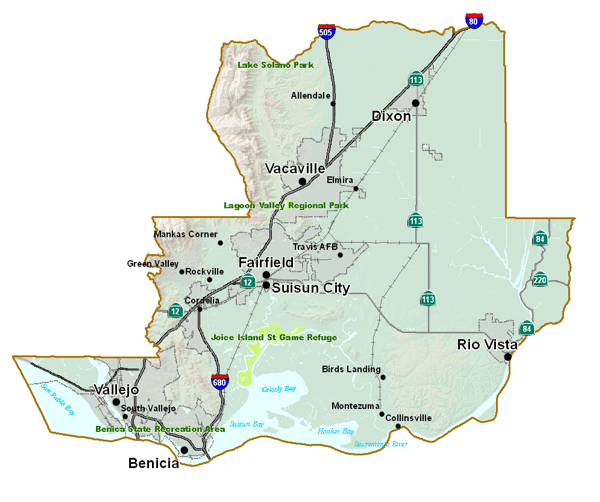 Click here to take a video tour of Solano County 
The County of Solano offers a blend of agriculture, corporate business, cultural venues, festivals and events, and provides residents with many recreation and entertainment choices. The County is also home to Travis Air Force Base. 

Solano County is centrally located and serves as a gateway to all that Northern California has to offer. The Napa Valley is less than 20 miles away, two world-class public universities (UC Berkeley and UC Davis) are 20 miles away, and both San Francisco and Sacramento are less than 40 minutes away. Day trips can also be made to South Lake Tahoe and Monterey. 

With its strategic location, affordable housing, natural resources, responsible land use planning, and attractive quality of life, Solano County is a great place to live, learn, work and play. 

County Population (January 2016): 431,498

The provisions of this bulletin do not constitute an expressed or implied contract. Any provision contained in this bulletin may be modified or revoked without notice.
SOLANO COUNTY IS AN EQUAL EMPLOYMENT OPPORTUNITY EMPLOYER