9182 SFMTA Chief of Staff
(Manager VIII, MTA)
Recruitment #PEX-9182-904131
| | |
| --- | --- |
| Department | Municipal Transportation Agency |
| Analyst | Lisamarie Chavis |
| Date Opened | 7/24/2020 4:00:00 PM |
| Filing Deadline | 8/21/2020 5:00:00 PM |
| Salary | $167,076.00 - $213,200.00/year |
| Job Type | Permanent Exempt |
| Employment Type | Full-Time |
Introduction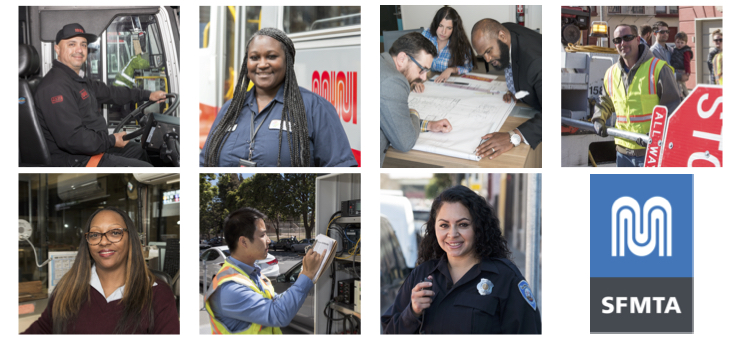 The following information describes the position for which applications are being solicited.
Make sure you read the entire announcement before completing the application form.
The purpose of this announcement is to fill a vacant position in this classification.
Division: Executive Director
Section/Unit: Chief of Staff Office
Work Location: One South Van Ness Avenue, 7th Floor, San Francisco, CA 94103
Work Schedule: Monday through Friday, 8:00am to 5:00pm
APPOINTMENT TYPE: Permanent Exempt, Full Time – This position is excluded by the Charter from the competitive Civil Service examination process and shall serve at the discretion of the Appointing Officer.
Established by voters in 1999, the San Francisco Municipal Transportation Agency (SFMTA) was created with the objective to operate and manage the San Francisco's transportation network as a single, integrated system. 
The SFMTA serves as the City and County of San Francisco's transportation planner, designer, builder and operator of the eighth largest public transit system in the United States, the Municipal Railway (Muni). The agency is governed by a seven-member board who are appointed by the Mayor and confirmed by the San Francisco Board of Supervisors which provides policy oversight, including budgetary approval, and approves changes of fares, fees, and fines, ensuring representation of the public interest. The SFMTA has over 6,000 employees with an annual $1.2 billion operating budget and $3 billion capital improvement program. 
The SFMTA provides essential transportation services that keep San Francisco moving, while also defining long-range transportation and equity goals, reducing greenhouse gas emissions and ensuring the city's position as a center of economic vitality.
DESCRIPTION OF THE CHIEF OF STAFF OFFICE:
The Chief of Staff Office (COS) is within the Executive Director Division of the SFMTA and operates at a tactical, strategic and operational level working with the executive and senior management team of the agency to advance key strategic initiatives, communications and relationships. The COS is responsible for leading key multi-divisional projects; managing and tracking strategic initiatives; monitoring goal and objective achievement through measurements of benchmarks and the analysis of Agency data; supporting the Director of Transportation in relations with the Mayor and San Francisco Board of Supervisors, the media, and developing key Agency strategic internal and external messaging.
The Chief of Staff manages the day to day operations of the Chief of Staff Office and leads key agency projects, driving both strategic vision and project execution forward to drive organization-wide impact. The position serves as senior advisor and counselor for the Director of Transportation, and provides the highest level of analytical, strategic, and implementation support with respect to current and emerging matters of importance ensuring follow-through on the part of key players, and sustaining momentum needed to drive these initiatives to completion. A key element of the position is regularly resolving highly complex issues or problems which require analysis of unique situations without precedent and/or structure. The Chief of Staff enables the Director of Transportation to work effectively with internal and external stakeholders. and will need to build relationships with key constituencies and stakeholders. This is a highly strategic role that requires a combination of focus and flexibility, as well as a willingness to play an active role.
EXAMPLES OF IMPORTANT AND ESSENTIAL DUTIES:
• Leads multi-divisional initiatives on behalf of the Director of Transportation which include developing and implementing solutions to issues that have Agency wide impact.
• Coordinates major agency-wide programs or projects; coordinates strategic planning efforts; conducts complex performance studies and surveys; collects data on difficult operational problems; compiles and analyzes information, develops and evaluates options, prepares and presents recommendations for review by executive management.
• Identifies and ensures that senior and executive management is informed of and make recommendations on high profile issues requiring attention and/or action by the Director of Transportation. 
• Develops, implements, interprets, analyzes and explains and communicates key policy initiatives, programs conferring with division directors, other public officials, business community, consultants and citizens in the accomplishment of program objectives.
• Responds to a variety of issues, handles sensitive negotiations with little or no precedence; requiring expedient and diplomatic action; involve coordination with other city agencies, the private sector and/or the general public.
•  Meets and negotiates with outside agencies and the public, including members of the business community, and citizen groups; explain agency policies, procedures, goals and objectives.
• Assists the Director of Transportation with activities related to the Mayor's Office, MTA Board of Directors and San Francisco Board of Supervisors.
• Represents the agency to outside agencies and organizations; participates in outside community and professional groups and committees; provides technical assistance as necessary.
• Provides direction and leadership to subordinate managers regarding general and specific issues of concern in areas such as planning, programming, staffing, and organizing their work.
• Builds and maintains positive working relationships with co-workers, other city employees and the public using principles of good customer service.
• Maintains and leverages relationships within the agency, including SFMTA executive staff, to identify champions for high-profile initiatives.
• Facilitates agenda preparation for executive and senior management meetings.
• May serve as a member of the SFMTA's negotiating team in meet and confer sessions.
• Performs related duties as assigned.
1. Education: Possession of a Bachelor's degree from an accredited college or university; AND
2. Experience: Six (6) years of managerial experience, all of which must have been in a supervisory role, which must have included at least two (2) years of experience in areas involving governmental policy development or implementation and strategic planning.
Substitution:
Education Substitution: Additional qualifying experience as described above may substitute for the required education on a year-for-year basis up to two (2) years. One-year (2000 hours) will be considered equivalent to thirty (30) semester units/forty-five (45) quarter units.
Experience Substitution:
Possession of a Master's degree from an accredited college or university in Public Policy, Public Administration, or Business Administration may substitute for one (1) year of the required management experience. Government policy development or implementation and strategic planning experience may not be substituted.
Notes: 
Applicants must meet the minimum qualifications by the final filing date unless otherwise noted. One year of full-time experience is equivalent to 2000 hours. (2000 hours of qualifying work experience is based on a 40-hour work week). Any overtime hours that you work above forty (40) hours per week are not included in the calculation to determine full-time experience. 
DESIRABLE QUALIFICATIONS:
The stated desirable qualifications may be used to identify candidates advancing to the interview process and/or to identify job finalist(s) at the end of the selection process when referred for hiring.
• Possession of a Master's Degree in Public Policy or related field from accredited college or university.
• Two (2) years of experience in public transit or government affairs in areas involving governmental policy development or implementation.
• Experience in developing teams to work through complex projects, develop project benchmarks and attain project goals.
• Capacity to think through the implications and relationships of complex issues.
• Excellent and demonstrated judgment and diplomacy in working with diverse groups to address complex issues.
• Knowledge of the practices of organization, administration and personnel management.
• Attention to detail, quality control, and document consistency with team and Agency standards.
• Ability to make effective written and oral presentations to a variety of audiences.
• Ability to multi-task and shift priorities, to establish and foster harmonious working relations and to effectively manage the stress of last minutes projects and deadlines.
• Ability to review organizational and management practices as applied to the analysis and evaluation of programs, policies and operations.
San Francisco Municipal Transportation Agency employment applications for this position will be accepted through an on-line process only.  A resume and cover letter must be attached to the online application. Mailed, hand delivered or faxed applications will not be accepted. Visit www.jobaps.com/sf to begin the application process.
• Click and select 9182 SFMTA Chief of Staff (Manager VIII, MTA) (PEX-9182-904131)
• Click on "Apply" and read and acknowledge the information
• Click on "I am a New User" if you have not previously registered, or on "I have REGISTERED PREVIOUSLY"
• Follow instructions given on the screen.
To submit resume using the online application:
• Select the "Resume" tab in the online application
• Follow instructions given on screen.
To submit cover letter using the online application:
• Select the "Other" tab in the online application
• Choose "Upload" as your method of submittal
• Click on "Upload Attachment"
• Follow instructions given on screen.
If you are having trouble attaching your resume and cover letter to the online application, you may submit by email to Lisamarie Chavis, Analyst at Lisamarie.Chavis@sfmta.com, subject: 9182 SFMTA Chief of Staff (Manager VIII, MTA) (PEX-9182-904131). Résumé will not be accepted in lieu of completing the online application.
In order to comply with social distancing guidelines, staff is working remotely at this time. We highly recommend applications be completed early.  If you are having difficulty submitting your application online, please contact us at 415.646.2744 between 8:30 a.m. – 12:00 p.m. and 1:00 p.m. - 4:30 p.m. Monday through Friday or by e-mail at Lisamarie.Chavis@sfmta.com.
Applicants may be contacted by email about this announcement and, therefore, it is their responsibility to ensure that their registered email address is accurate and kept up-to-date. Also, applicants must ensure that email from CCSF is not blocked on their computer by a spam filter. To prevent blocking, applicants should set up their email to accept CCSF mail from the following addresses: (@sfgov.org, @sfmta.com).
Upon successful submittal of the application online, the applicant will receive a notification on the screen, as well as in the applicant's e-mail inbox, acknowledging the receipt of the application.
Applicants may be required to submit verification of qualifying experience and education at any point in the application and/or departmental selection process. Written verification must be submitted on employer's official letterhead, specifying dates of employment, types of employment (part-time/full-time), job title(s), description of duties performed, and the verification must be signed by the employer. City employees will receive credit for the duties of the class to which they are appointed. If education verification is required, information on how to verify education requirements, including verifying foreign education credits or degree equivalency, can be found at http://sfdhr.org/index.aspx?page=456.
Note: Falsifying one's education, training, or work experience or attempted deception on the application may result in disqualification for this and future job opportunities with the City and County of San Francisco.
SELECTION PROCEDURES:
Applications will be screened for relevant qualifying experience. Additional screening mechanisms may be implemented in order to determine candidates' qualifications. Only those applicants who most closely meet the needs of the Agency will be invited to participate in the selection process. Applicants meeting the minimum qualifications are not guaranteed advancement to the interview.
Qualified applicants with disabilities requiring reasonable accommodation in the selection process must contact the Agency by phone at 415.646.2744 or, if hearing impaired at 415.701.5043 (TTY) or in writing to the SFMTA Human Resources Operations Section, 1 South Van Ness Avenue, 6th Floor, San Francisco, CA 94103 (specify Class 9182 SFMTA Chief of Staff).
Applicants are responsible for updating their email address or mailing address. Contact Information must be updated online at http://www.jobaps.com/sf by clicking on "Update My Contact Info" and logging into your account.  If updating contact information online, applicants must contact the analyst at 415.646.2744 immediately to inform them of the change. Failure to do so may result in the loss of eligibility.
Make sure your application and any attachments to the application submitted at the time of filing are complete and accurate and include details on all experience, education, training and other information that qualifies you for this recruitment. Failure to submit a complete and accurate application at the time of filing may result in your ineligibility for this recruitment or inability to receive full credit for scoring purposes. Any new information concerning work experience, education, training and other information that is submitted after the filing deadline may not be used for scoring or considered to determine whether you meet the minimum qualifications.
General Information concerning City and County of San Francisco Employment Policies and Procedures:
Copies of Application Documents:
Applicants should keep copies of all documents submitted, as these will not be returned.
All persons entering the City and County of San Francisco workforce are required to provide verification of authorization to work in the United States.
Applicants with disabilities who meet the minimum eligibility requirements for this job announcement can find information on requesting a reasonable ADA Accommodation at:
MINORITIES, WOMEN AND PERSONS WITH DISABILITIES ARE ENCOURAGED TO APPLY
AN EQUAL OPPORTUNITY EMPLOYER
Conviction History
As a selected candidate for a job, you will be fingerprinted, and your fingerprints will be sent to the California Department of Justice (DOJ) and the Federal Bureau of Investigation (FBI). The resulting report of your conviction history (if any) will be used to determine whether the nature of your conviction (or arrest, in limited circumstances) conflicts with the specific duties and responsibilities of the job for which you are a selected candidate. If a conflict exists, you will be asked to present any evidence of rehabilitation that may mitigate the conflict, except when federal or state regulations bar employment in specific circumstances, such as:
Candidates for positions with the Unified School District and the Community College District may be disqualified from consideration should their conviction history not meet the standards established under the California Education Code.
Candidates for positions with the Recreation and Park Department may be disqualified from consideration should their conviction history not meet the standards established under California Public Resources Code 5164.
Having a conviction history does not automatically preclude you from a job with the City.
If you are a selected candidate, the hiring department will contact you to schedule a fingerprinting appointment.
Disaster Service Workers
All City and County of San Francisco employees are designated Disaster Service Workers through state and local law (California Government Code Section 3100-3109). Employment with the City requires the affirmation of a loyalty oath to this effect. Employees are required to complete all Disaster Service Worker-related training as assigned, and to return to work as ordered in the event of an emergency.
Benefits
All employees hired on or after January 10, 2009 will be required (pursuant to San Francisco Charter Section A8.432) to contribute 2% of pre-tax compensation to fund retiree healthcare. In addition, most employees are required to make a member contribution towards retirement, ranging from 7.5%-13.25% of compensation. For more information on these provisions, please contact the personnel office of the hiring agency.
For more information about benefits, please click here.
Click on a link below to apply for this position:
Powered by