Monday, September 16, 2019
Steel Creek Galvanizing, LLC - Material Handler
Post-Hire Training
Recruitment #97-60-07
| | |
| --- | --- |
| Company | Steel Creek Galvanizing, LLC |
| Date Opened | 2/4/2019 5:00:00 PM |
| Filing Deadline | 6/30/2019 11:59:00 PM |
| Location | Cherokee |
Introduction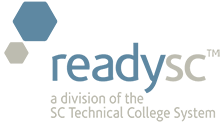 readySC™
in cooperation with
Spartanburg Technical College
is assisting with the recruitment and training for
Steel Creek Galvanizing, LLC
Steel Creek Galvanizing, LLC is launching a new facility in Cherokee County.  Designed to protect steel against rust and other corrosion, the hot-dip galvanizing operation will be an environmentally-friendly, zero-emission operation.  We are seeking qualified candidates for the start-up of our new facility in Blacksburg.
Potential employment opportunities exist for:
Material Handler
Job Duties:
Receive, store and distribute materials, tools, equipment and products.

Read production schedule, customer order, work order, shipping order or requisition to determine items to be moved, gathered or distributed.

Transport materials and items from receiving to production areas, storage or to other designated areas by hand, hand truck, or forklift.

Sort and place materials in proper storage area or bins.

Performs job functions while meeting safety, quality and production standards.

Inspect incoming material before releasing for production.

Keep work area, machinery, equipment, and control panels clean and organized.

Actively look for methods to improve production.

Use all personal protective equipment required, follows all safety/environmental procedures, and does not by-pass any safety devices.
 Experience Required:
High School Diploma or GED preferred.

Six months experience in a manufacturing facility or warehouse.

Must be able to understand basic work, safety and quality requirements.

Good hand/eye coordination.

Must have strong attention to detail and desire for quality work.

Must be able to perform in a fast-paced manufacturing environment while meeting safety and quality standards.

Basic math skills.

Must be able to lift up to 50 pounds.

Ability to operate forklift
Starting wage $12 to $16 per hour depending on experience.
Steel Creek Galvanizing, LLC offers standard benefits package including paid time off.
An Equal Opportunity Employer