Saturday, December 15, 2018
Mercedes-Benz Vans, LLC - Painting Technician - Multiple Openings
Post-Hire Training
Recruitment #87-14-22
| | |
| --- | --- |
| Company | Mercedes-Benz Vans, LLC |
| Date Opened | 6/15/2018 09:00:00 AM |
| Filing Deadline | 10/30/2018 6:00:00 PM |
| Location | Charleston |
Introduction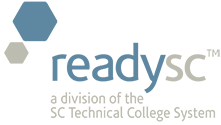 readySC™
In Cooperation With
Trident Technical College
is assisting with the recruitment and training for
Current employment opportunities exist for:
Painting Technician - Multiple Openings
From passenger cars to commercial vans, the Mercedes-Benz brand stands as one of the Daimler Group's many success stories. The Daimler Group consists of several companies with more than 280,000 employees worldwide who put into practice the core values of Passion, Respect, Integrity and Discipline each day. We believe it is our mission and our duty to shape the future of mobility in a safe and sustainable manner - with trendsetting technologies, outstanding products and made-to-measure services.

Here in North Charleston, SC, Mercedes-Benz Vans, LLC is writing an exciting chapter in Daimler's history as we add the first U.S. van production plant for the Mercedes-Benz Sprinter, in addition to our existing assembly operation for Sprinter and METRIS vans. Our slogan is "Vans. Born to Run." and we invite engaged, innovative candidates to run the ramp up of our new facility with us!
WE HAVE MULTIPLE OPENINGS!
Paint Technician 1

Paint Technician 2

Paint Technician 3
The position for each candidate will be based on skills, knowledge, experience, and business needs.
The Paint Shop is responsible for ensuring corrosion protection and topcoat application to the body. The Body is cleaned, conditioned, and coated for protection. A primer coating is applied to create consistency in the surface prior to paint and topcoat is applied robotically to complete the final appearance of the body. Seams of PVC sealant and cavity wax are applied for additional rust protection.
Responsibilities may include:
Retrieve and provide material, workpieces, tools, work documents, device parts, auxiliary materials, etc. according to the specified min/max stock. Arrange for disposal/treatment

Prepare the workplace for manual activities ensuring that the area is clean, organized and up to 5S standards

Prep cars and car bodies for paint process

Mask/unmask parts and car bodies and areas to be coated

Spray wax for cavity preservation

Perform visual inspection for completeness and proper execution of standard and record defects into the quality reporting system

Seal interior and exterior seams

Spray or lay out PVC protection and sika, taking into account the required surface quality on the visible parts of the shell

Fix minor issues with paint tools/equipment (such as through filter cleaning, changing of nozzles)

Monitor and control coating/painting processes

Set order sequence

Analyze end-of-process items, and adjust the coating process accordingly

Monitor production flow and buffer levels

Coordinate with upstream/downstream areas

Propose corrective measures for bottleneck situations, and coordinate with the foreman if necessary

Accumulate manufacturing data and evaluate

Analyze system errors, if necessary by the use of diagnostic systems. Identify vulnerabilities in advance

Develop and implement corrective measures

Carry out spot repairs (partial surface repair/coating)

Adhering to painting standards, inspect, detect, classify, determine corrective measures and fix localized damage and defects outside of the normal painting process

Act as the final coatings/paint quality point, and conduct repair work so the product will be released to the customer

Refinish seam seals for finished painted vehicles

Participate in the Continuous Improvement Program
Paint Technician 1 - Minimum Qualifications:
High School Diploma or GED strongly preferred

1+ years relevant manufacturing experience or Lean Manufacturing Certificate preferred.

Candidates should possess basic craftsmanship and technical understanding.

Basic hand/power tool familiarity

Experience in automotive paint environment preferred.

Ability to stand, use hands, arms to finger, and reach for long periods of time

Ability to push, pull, squat or bend and turn repeatedly

Ability to occasionally lift and/or move objects weighing over 35lbs

Ability to use close vision, color vision, and depth perception for extended periods

Required to complete essential job functions

Willing to complete a drug screen, background check, and pre-placement medical exam

Willing to work overtime
Paint Technician 2 - Additional to Paint Technician 1:
Required: 2+ years of relevant manufacturing experience; OR Relevant certificate and 1+ years of relevant experience

Preferred: 3+ years of relevant experience; OR Relevant certificate and 2+ years of relevant experience

Experience using buffers/sanders on automotive paint preferred
Paint Technician 3 - Additional to Paint Technician 2:
Required: 4+ years relevant experience; OR Relevant certificate + 3 years relevant experience; OR Relevant associates degree + 1 year relevant experience

Preferred: 5+ years relevant experience; OR Relevant certificate + 4 years relevant experience; OR Relevant assoc. degree + 2 years relevant experience

Must possess intimate knowledge of paint, chemical, and coating processes

Knowledge of automotive paint and coating systems, data processing, chemical handling, and painting equipment

Experience controlling automated painting systems in a manufacturing setting ASE B2 Painting and Refinishing Certification or similar preferred

Formal Education in Automotive Body Repair or similar preferred
We offer Competitive Compensation & Benefits!
Medical, dental, life, and vision insurance

Paid holidays, vacation

Long and short-term disability

401(K) plus matching

Career development

Employee Vehicle Program
Mercedes-Benz Vans is proud to be an Equal Opportunity Employer. All qualified applicants will receive consideration for employment without regard to race, color, religion, sex, national origin, disability status, protected veteran status, or any other characteristic protected by law.  
IMPORTANT DISCLAIMER NOTICE The job duties, elements, responsibilities, skills, functions, experience, educational factors, and the requirements and conditions listed in this job description are representative only and are not exhaustive of the tasks that an employee may be required to perform. The Company reserves the right to revise this job description at any time and to require employees to perform other tasks as circumstances or conditions of its business, competitive considerations, or the work environment change.  
Mercedes-Benz Vans, LLC ("MBV") is a plant in Ladson, South Carolina that produces Sprinter vans for the U.S. and Canadian market under the brands Mercedes-Benz and Freightliner. The midsize Mercedes-Benz Metris vans are also reassembled at this location.  
Mercedes-Benz Vans, LLC invested 500 million U.S. dollars in the construction of a new Sprinter production plant in addition to an expansion of the previous assembly operations. In September 2018, MBV officially opened its new plant, located next to existing operations in the North Charleston area. The MBV facility will provide up to 1,300 jobs by the end of the decade and is expected to create at least 600 additional jobs in the region through its suppliers.  
More than 120,000 Sprinters have been assembled in North Charleston and delivered to destinations in the U.S. since 2006. The U.S. is now the second largest market for Sprinter vans, after Germany.      
An Equal Opportunity Employer