SKF/Kaydon - Assembler Technician
Pre-Hire Training
Recruitment #10-012-02
| | |
| --- | --- |
| Company | SKF/Kaydon |
| Date Opened | 7/26/2019 1:00:00 PM |
| Filing Deadline | 8/16/2019 5:00:00 PM |
| Location | Sumter |
Introduction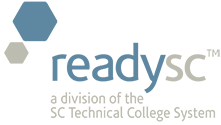 readySC™
In Cooperation With
Central Carolina Technical College
is assisting with the recruitment and training for
SKF/Kaydon
SKF/Kaydon manufactures ball bearings primarily used in medical systems, industrial machinery, semiconductor and aerospace/defense industries, and was recognized as the winner of the Sumter ITEM "Best in Sumter 2019" award for Best Manufacturing Plant.
Potential employment opportunities exist for:
Assembler Technician
Entry level: starting wage for Assemblers $13/hour. Experienced hires:  starting wages range from $16.07-$17.30/hour

Outstanding benefits are available to new hires, with eligible effective date of health insurance coverage being first day of employment

New hires will be eligible for the company's Pay-for-Skills program.  This program assesses the employee's skills and capabilities, making them eligible for further salary increases as they successfully achieve performance standards

Climate-controlled work environment with no rotating shifts.  Shifts are assigned, with no swing or week-to-week change to scheduled work hours 
Position Summary:
This position is responsible for the inspection and assembly of finished and semi-finished product using sub-assemblies and components in compliance with engineering drawings, customer and company specifications. Approves finished goods within specifications prior to packaging and shipment to customers.
Duties and Responsibilities (including but not limited to):
Must be able to read engineering drawings and specifications, understand standard notes, symbols and instructions as related to work.

Perform normal inspection checks using various gauges, calipers, and measuring tools.  Make acceptance or rejections based on specified tolerances. 

Complete any visual inspections required such as: surface finish, nicks, burrs, stains, radii, reliefs and broken edges. Make acceptance or rejection based on visual findings.

Move and position parts, containers, gages or any other equipment as required for the performance of inspection or assembly operations.

Must meet quality and quantity requirements.

Collects and records a variety of data on variety of company supplied document/forms/computer transactions (job transactions, data sheets, set up sheets, etc.) in support of proper record keeping requirements. Accurately complete all associated documents and records required in the inspection and assembly procedures.

Maintains open communication between supervisors and co-workers to aid in production efforts. Assists in the training and development of new employees.

Match races and load balls, rollers, or other components as needed to obtain a specified diametrical clearance or metal to metal fit.

Perform etching for proper identification. Mark indicated measurements as needed.

Install seals and shields of required. Perform necessary greasing of bearings and bearing assemblies.

Package product per Kaydon and customer specifications.

Employee shall achieve the above requirements with minimal supervision and instruction.

Must have acceptable eyesight as defined by customer/Kaydon specifications.

Performs continuous improvement (lean) activities as assigned or required.

Responsible for maintaining a clean and safe environment including identification of unsafe conditions. Steel toed shoes and ANSI approved safety glasses with side shields must be worn at all times.

Performs other duties as assigned or required.
Minimum Education/Experience Required:
High School diploma or GED equivalent is required.  Prior metal working/machine operating experience preferred; successful pre-employment physical and drug test.
General Job requirements:
Must be able to stand, sit, walk, reach, use fingers, tools, or controls

Frequent lifting/moving up to 40 pounds

Specific vision abilities required include, close vision and the ability to adjust focus

Flexibility to work any shift and to work overtime, as necessary
Training is provided at no charge to trainees.  Successful completion of the training program carries no obligation to accept any offer of employment, nor is an offer guaranteed.
An Equal Opportunity Employer