Tuesday, December 10, 2019
SKF/Kaydon - CNC Machine Operators
Pre-Hire Training
Recruitment #10-012-01
| | |
| --- | --- |
| Company | SKF/Kaydon |
| Date Opened | 7/26/2019 1:00:00 PM |
| Filing Deadline | 8/16/2019 5:00:00 PM |
| Location | Sumter |
Introduction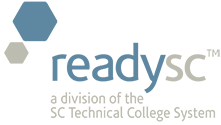 readySC™
In Cooperation With
Central Carolina Technical College
is assisting with the recruitment and training for
SKF/Kaydon
SKF/Kaydon manufactures ball bearings primarily used in medical systems, industrial machinery, semiconductor and aerospace/defense industries, and was recognized as the winner of the Sumter ITEM "Best in Sumter 2019" award for Best Manufacturing Plant.
Potential employment opportunities exist for:
CNC Machine Operators
Entry level: starting wage for Machine Operators $14.50/hour. Experienced hires:  starting wages range from $16.07-$17.30/hour

Outstanding benefits are available to new hires, with eligible effective date of health insurance coverage being first day of employment

New hires will be eligible for the company's Pay-for-Skills program.  This program assesses the employee's skills and capabilities, making them eligible for further salary increases as they successfully achieve performance standards

Climate-controlled work environment with no rotating shifts.  Shifts are assigned, with no swing or week-to-week change to scheduled work hours 
Job Function:
The primary function of this position is the efficient set-up, operation and troubleshooting of CNC machining centers.  The Operator will also ensure the proper machining techniques are followed and acceptable levels of quality and productivity are met within established parameters in a safe and effective manner.
Duties and Responsibilities (included but not limited to):
Start up and shut down a variety of machine(s) following established company procedures and safety guidelines.

Set up and operate numerically controlled (NC, CNC, PLC and other manual machines) lathes (horizontal & vertical) performing machining operations including: turning, boring and facing castings and forgings. Select and install tooling into tool posts, turrets or indexing heads.

Mount work piece in chuck, or faceplate, manually or using hoist or cranes.

                 




Perform machining operations on a variety of parts at times with high levels of complexity, ensuring machining operations are performed within established parameters, minimizing scrap and rework with acceptable levels of output.

Read and interpret a variety of engineering and quality specifications.

Apply practical and working knowledge of machines to make the necessary adjustments (turning dials, switches, and assigned offset/program controls) to override machine control and correct machine performance.

Responsible for all inspections ensuring conformance to specifications using precision measuring instruments. May also perform inspections for other operators, if required.

Observe numerical displays on control panel and compare with data on process sheet to verify dimensional adjustments, feed rates and speed of machining cuts.

Perform continuous improvement (lean) activities as assigned or required.

Maintain a clean and safe environment including identification of unsafe conditions. Steel toed shoes and ANSI approved safety glasses with side shields must be worn at all times.

Perform other duties and assignments as scheduled and/or required.
Requirement/Qualifications:
High School diploma or GED equivalent is required. Technical degree in manufacturing technology preferred. One (1) to three (3) years machining experience in precision manufacturing environment. Solid understanding and ability to use shop math and precision (micrometers, precision dial gauges, etc.) measuring instruments. A thorough knowledge of CNC machine operation, tool off setting and basic machine code is strongly preferred. Must be able to read, write, understand technical documentation, computer literate, read process drawing (blueprints), and engineering specification.
General Job requirements:
Must be able to stand, sit, walk, reach, use fingers, tools, or controls

Frequent lifting/moving up to 40 pounds

Specific vision abilities required include, close vision and the ability to adjust focus

Flexibility to work any shift and to work overtime, as necessary
Training is provided at no charge to trainees.  Successful completion of the training program carries no obligation to accept any offer of employment, nor is an offer guaranteed.
An Equal Opportunity Employer